Am 19.5.2015 waren Stephen und Don, Großneffen von Gertrud Loewenson (Stolperstein Kiefernweg 8, zum 3. Mal aus USA zu Besuch in Eichkamp. Sie hatten für uns eine interessante Präsentation am PC über ihre Familiengeschichte vorbereitet. Zu aller Überraschung fanden sie weitere 4 Familienmitglieder, die früher in Eichkamp lebten: Hedwig Rosentreter: Am Vogelherd 12, Curt Jacobsohn: Eichkatzweg 28, Edwin Rewald: versteckt im Zikadenweg 46 und Margarete Zuelzer: Eichkampstr. 108. Die Familie hatte wohl gehofft, dass ein Zusammenleben hier in Eichkamp etwas sicherer sein könnte. Sie täuschten sich. Stephen und Don wissen bisher von 10 Familienmitgliedern, die während der Nazizeit ermordet wurden oder sich das Leben nahmen.
Heute leben in Eichkamp auch wieder einige Familien-Generationen, aber ohne um ihr Leben zu fürchten.
Danke für die tolle Gastfreundschaft im Zikadenweg und Dank an Stephen und Don für ihr Kommen.
s.a. Webseite
Gertrud Löwenson, Kiefernweg 8
zurück zur Startseite Stolperstein-Intiative Berlin-Eichkamp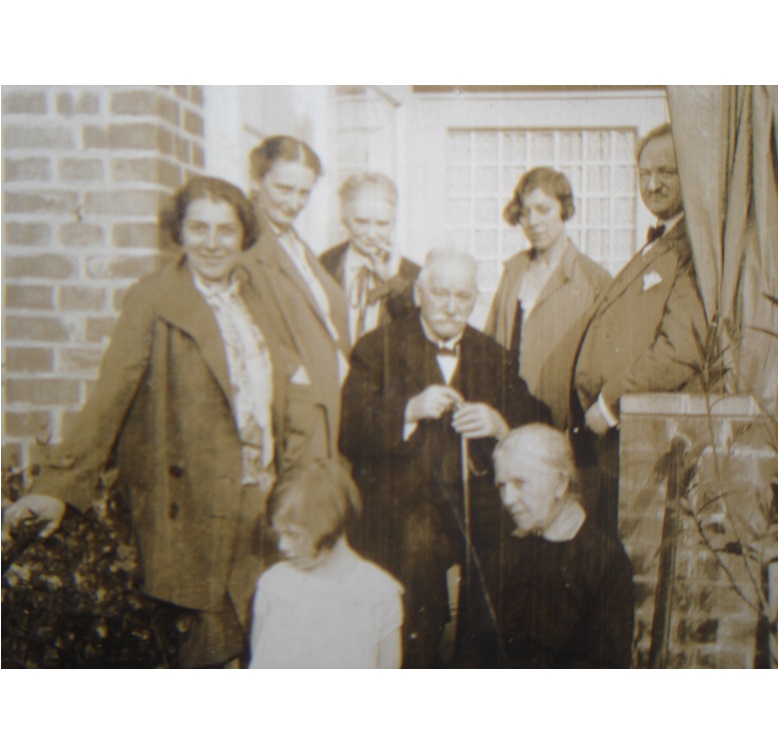 Eichkamp 1928, Gertrud Loewenson 2.von links



Tracing USA - Eichkamp: Family Loewenson


On Tuesday, May 19th, Gertrud Loewenson's grandnephwes Stephen and Don from USA came to a third visit to Eichkamp (stumbling stone Kiefernweg 8). They gave us with an interesting presentation about their enormous research of their family branches all over the world. To their and our surprise, they found 4 other family members who used to live in Eichkamp in the thirties : Hedwig Rosentreter, Am Vogelherd 12, Curt Jacobsohn, Eichkatzweg 28, Edwin Rewald, hidden in Zikadenweg 46, Margarete Zuelzer, Eichkampstr. 108. During the horrible nazi period the family tried to live together in Eichkamp to feel saver, but they failed. Stephen and Don know about 10 family members who were murdered in the holocaust.
These days some grandparents are living near their children and grandchildren in Eichkamp again and fortunately they don't have to fear for their lives. Thank you for the kind reception at Zikadenweg. To Stephen and Don: thank you very much for coming.
back to English